White water Rafting Austria
Tirol
Rafting Center Haiming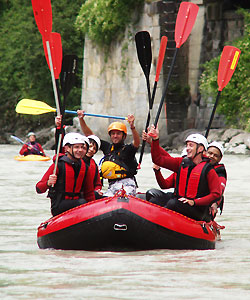 Tyrol rivers offer some of the best white water rafting in Europe. Experienced rafters or first timers - we have Tours tailored to suit all levels - Step in to the raft and and let our professional guides take you on a rafting adventure.
White water rafting is Teamwork! Lets paddle together threw big Waves, challenging Whitewaters, turbulent Rapids and narrow Rock Gorges Rivers
in Levels III to V! >> Rafting Trips Tirol
Rafting Location & Infos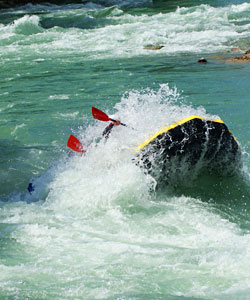 The Rivers Inn (Imster Schlucht), Ötztaler Ache and Sanna are some of the best Rafting Rivers in Europe. Directly at the step out of the Raftingtrips Imster Schlucht and Ötztaler Ache is our Rafting Center in Haiming Tirol located!
The best Rafting Trips in Europe
Warm und professional Rafting Equipment
Certified and experienced Raft guides
Tyrolean Guesthouse, friendly bar and good food
Photo service on each trip
To bring with: swim suit and a towel, Adventure spirit and a good mood >> Rafting Trips Tirol