Canyoning Lake Garda
Italy
What is Canyoning?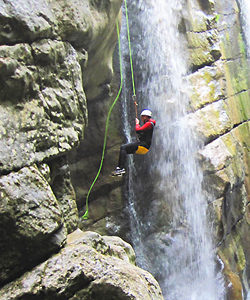 Canyoning in Italy at Lake Garda is pure adventure in a breathtaking natural scenery. With Canyoning we are following down the course of the water, overcome natural obstacles and waterfalls by:
Jumping into deep crystal clear pools
Sliding down polished Rock gullies
Abseiling over amazing Waterfalls
A challenge, fun and team spirit in a awesome natural scenery. That is Canyoning!
Canyoning Location & Info`s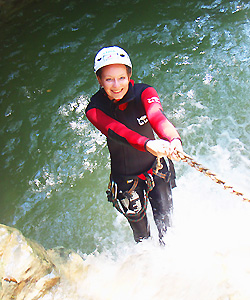 Lake Garda in Italy is one of the best regions in Europe for Canyoning. About 12 Canyoning tours in different difficulty levels for beginners or professionals are located around the lake.
Some of the best canyoning tours in Europe
High quality & warm Canyoning equipment
Certified & experienced Canyoning guides
Restaurant & overnight stays directly at our base
Photo service on each trip
To bring with: swimsuit and a towel