Gift Voucher
Rafting Canyoning
---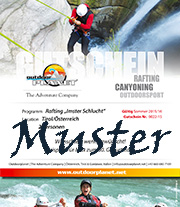 ---
FAQs - Rafting & Canyoning Adventure Vouchers
For gifts or birthday presents! Outdoorplanet experience gift Vouchers are a great way to give someone that extra special Adventure present. The vouchers are valid for 2 summer Seasons.
to Order: choose your voucher, get it (PDF, one day), donate it and pay within 2 weeks

Shipping: we will send the voucher as desired by mail or by post
→ PDF file directly to your email address, no shipping costs within 1 day
→ Post shipment within 5-10 working days within Europe, shipping costs 4 €

Payment: with the voucher you will get the voucher invoice
→ With receipt of the voucher you can comfortably pay via bank transfer within 2 weeks
→ The voucher is valid for the next 2 Summer seasons

to redeem: the presentee get in contact with us and redeem the voucher after registration

Our Adventure & Package Vouchers we can create only without Accommodation`s! We can book the preferred Accommodation when the presentee know`s a correct date to redeem the voucher, if desired.