Adventure Holidays
Austria Europe Tirol
---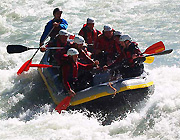 A week packed full of action, fun and adventure with the best outdoor activities such as rafting, canyoning and climbing in Austria Tirol. Our rafting center in Tyrol is the perfect location for this action packed adventure activity holiday!
Adult Adventure Holidays
---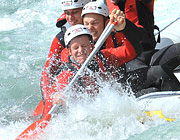 Outdoor activity week for families with teenagers from 12 years old. Action packed adventure holidays with rafting, canyoning and climbing in Austria, Tyrol for active families. Suitable for beginners and also experienced outdoor enthusiasts!
Teenager Activity Holidays
---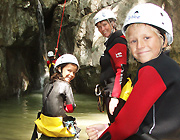 A week full of Adventure for families with children from 7 years old. Family activity Adventure Holidays with a lot of sport, fun and action in Austria. The nicest outdoor activities of europe for families with rafting, climbing and canyoning in Tyrol.
Family Adventure Holidays
---
Adventure Holidays Oetztal & Imst – Austria Tirol
The Oetztal valley by Imst in Tirol is the most beautiful holiday region in Austria for outdoor sports and an eventful activity adventure vacation. With mountains up to 3000m high surrounding the relatively wide valleys, the typically calm and sunny alpine weather makes for the perfect setting for our Canyoning and Rafting Centre. A perfect place for a summer vacation in the mountains with a variety of action-packed outdoor activities such as white-water rafting, canyoning, caving and climbing!
Within our region there are many foaming rafting rivers, stunning canyons, mountain bike routes, walking paths, multiple climbing areas and via ferrata with many close to our base. As well as our sports program offer, we would love to inform you about all the additional things to do in our local area!
Our Adventure holiday week for families is ideal for families with children aged 7 and over. Here we combined the best fun and outdoor activities for families with kids in our region. Suitable for Families with kids which love the adventure outdoors.
For our Program, Activity Holidays with teenagers we created a perfect adventure program for families with teenagers 12 years old and over. Here we combined our best activities in the medium difficulty level with lots of fun and action.
The Outdoor Adventure Week for Adults also includes our extreme rafting and canyoning tours. Over the week the difficulty level of the activities are increases, so it is a perfect program for beginners or experienced outdoor enthusiasts.